François Carrier
Saxophoniste⎜improvisateur⎜compositeur
À quoi servira le financement
Les fonds recueillis me permettront de financer mes nombreux projets de création, de production et de diffusion musicales. Cet argent sera en priorité utilisé pour le cachet des différents intervenants professionnels ainsi que pour la conception graphique du coffret vinyle et du livre photo, et pour mes frais de subsistance.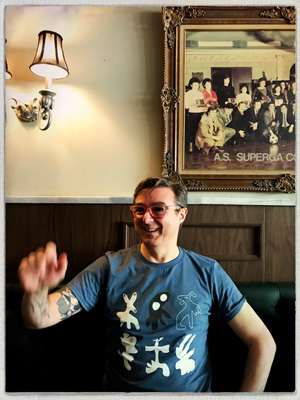 Je me présente
Vrai créatif, profondément intuitif, visionnaire absolument excentrique, totalement habité par les arts, toujours émerveillé et éternel optimiste, je joue comme je respire.
Voici un extrait de critique de mon plus récent album :

"Carrier's tone is extraordinarily beautiful for a free jazz performance. Such is the imperturbable sound of a self-possessed musician."
Cliquez ici pour voir la critique complète → AllAboutJazz
Faites votre choix
10 $ – un téléchargement numérique
20 $ – un CD de votre choix (si disponible).  → Shop
50 $ – sonnerie de téléphone cellulaire personnalisé
100 $ – catalogue de partitions de précédentes compositions
150 $ – remerciement écrit dans un prochain album
250 $ – collection de 18 CD différents
500 $ – concert privé en solo
1 000 $ – concert privé en duo
1 500 $ – concert privé en Trio
2 000 $ – devenez commanditaire officiel
Beaucoup de pain sur la planche
Produire un coffret de 5 vinyles (album 33 tours) inédits constitués de concerts, en Angleterre, en Roumanie, en Pologne, et ici à Montréal avec plusieurs musiciens invités. Sortie prévue :  2019
Publier un livre photo de mes récentes pérégrinations. Je veux partager les images qui me frappent lors de mes tournées musicales autour du monde, les impressions visuelles qui inspirent et habitent ma musique lors des concerts que je présente dans ces villes, ces rencontres hors du commun que l'on retrouve dans chacun de mes 35 CD déjà produits.
Composer un répertoire d'une vingtaine de pièces musicales que j'utiliserai lors de concerts avec différents ensembles musicaux, ce qui ajoutera une nouvelle dimension à mon répertoire et en diversifiera l'étendue.
Organiser des tournées de concerts en Europe et en Asie. Trouver les diffuseurs, prendre des ententes, réserver les transports et l'hébergement, etc.